Russell Scarbrough Big Band: FUN TIMES in Rochester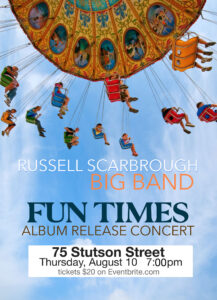 Celebrating this summer's release of our new album FUN TIMES: come out to 75 Stutson Street in Charlotte on Thursday, August 10 at 7:00pm to hear a rare live performance of the full 18-piece Russell Scarbrough Big Band, featuring the hottest Rochester musicians performing music from the album and all new original compositions.
"Scarbrough's ensemble revels in big band rock and funk (with a sci-fi vibe), with a generous helping of swaggering, guitar-laced blues. A spirit of exuberant, energetic optimism pervades the music, interwoven with quieter moments evoking nostalgia, wide-eyed wonder, and hope."
It's an all-ages show in an air-conditioned venue! Plenty of free parking.
====
What people are saying about FUN TIMES:
I'm happy to see Russell Scarbrough leading his big band and writing music with such care and passion and with such incredible instrumentalists. He is truly a musician's musician with a lot to offer our community. I've had the pleasure to work closely with him and highly regard his musicianship. Looking forward for more to come!
Terri Lyne Carrington, Grammy-winning drummer, Berklee College of Music
Russell Scarbrough's compositions and arrangements communicate not only a love of the big band tradition but also a contemporary sensibility that speaks to finding a personal voice in 2023. And beyond musical craftsmanship and the technical wizardry of recording the players remotely during the pandemic, what is most striking about Fun Times is the music's generous emotional expression, its fundamental optimism. Scarbrough is not naïve about the state of the world, but he knows that joy is a quality we could all use more of in our lives.
Mark Stryker, Jazz from Detroit (Univ. of Michigan Press)
The scope of the writing made listening to it much like reading a "page-turner" — lots of nice surprises amid logical development and pacing of events. The record deserves to be heard.
Harold Danko, Pianist, composer, and educator (Steeplechase Records, Thad Jones-Mel Lewis, Chet Baker, Gerry Mulligan, Lee Konitz, Woody Herman)
[Scarbrough's] brand-new album shows just how much he knows about the big band tradition. The instrumental colors are appealing and the band is hot.
Ethan Iverson, Pianist, composer, and writer (Transitional Technology, The Bad Plus)