Russell Scarbrough's compelling, visceral works reflect a diverse array of musical resources, drawing inspiration from both the jazz tradition and from contemporary classical music. His music is filled with engaging themes, with rich contrasts and unpredictable rhythmic energy. A ten-time ASCAP Plus Award recipient, Scarbrough's works are regularly performed by jazz ensembles, orchestras, and chamber groups internationally, and he makes frequent appearances as an educator, a conductor, and a performer.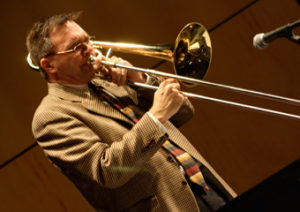 His works have been performed by the Fort Worth Symphony, Grand Rapids Symphony, Santa Rosa Symphony, Columbus Symphony, Anchorage Concert Chorus and Orchestra, Erie Chamber Orchestra, Eastman Studio Orchestra, Bemus Bay Pops Orchestra, American Jazz Composer's Orchestra, Dublin City Jazz Orchestra, the Jazz Flute Big Band UK, Baltimore Jazz Alliance Big Band, the US Army Blues Jazz Ensemble, and the US Naval Academy Next Wave Jazz Ensemble. Classical chamber artists Kathryn Scarbrough, Peter Sheridan, Mark Kellogg, Areté, Vocasynth, and the Irrera Brothers have premiered his works, and jazz soloists such as Terri Lyne Carrington, Randy Brecker, Jon Faddis, Ali Ryerson, Clay Jenkins, Charles Pillow, Eric Alexander, and Stefon Harris have performed his jazz works. Recent performances have taken place at Carnegie Hall, the National Flute Convention, the International Trombone Festival, and on the steps of the U.S. Capitol.
Scarbrough directs three main projects for showcasing his original music and arrangements: his 18-piece ensemble, the Russell Scarbrough Big Band, features his own works in a strikingly original voice; the 12-piece Soul-Jazz Big Band features the earthy jazz of the 1960's and 70's, and the Russell Scarbrough Orchestra featuring Frank Torchio revisits the classic performances of Frank Sinatra and Ella Fitzgerald.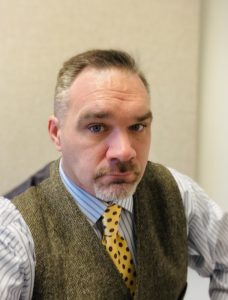 Scarbrough studied trombone with John Gifford, John Melick, Wayne Wells, Harry Watters, Mark Kellogg, and John Marcellus. As a performer, he has shared the stage with a host of jazz greats, including Clark Terry, Slide Hampton, Bob Brookmeyer, Johnny Mathis, Marian McPartland, Peter Erskine, Dick Oatts, Rufus Reid, Bob Sheppard, Conrad Herwig, Randy Brecker, Jon Faddis, Eddie Daniels, Wayne Bergeron, Eric Marienthal, Chuck Mangione, Pat LaBarbera, Allen Vizzutti, Byron Stripling, Marvin Stamm, Frank Tiberi, John Fedchock, Danny Gottlieb, Gary Foster, Barry Harris, Joey Sellers, Frank Vignola, Chuck Marohnic, Greg Hopkins, Jim Snidero, and Charlie Byrd.
Russell Scarbrough is Assistant Professor of Jazz Studies and Jazz Ensemble Director at Houghton University. He also directs the Canisius College Jazz Ensemble. Previously, he served as conductor of the Houghton Symphony Orchestra from 2020-2022, and directed the Roberts Wesleyan College Jazz Ensemble from 2005-2013. Scarbrough studied composition with Hank Levy and Bill Dobbins, and received his Doctor of Musical Arts degree from the Eastman School of Music.
His album of original works for 18-piece big band, FUN TIMES, was released in 2023.